"If your feet are happy, you are happy."
– Unknown
As you start to transition into your standing desk station it is important to cushion your feet since you will be on your feet much longer than you would be otherwise.  Whatever the flooring service is in your office space be it carpet, hardwood, cement or tiles finding the the right high-quality mat is key.  
Ergonomic Friendly Setup [3]
Distance: Proper sitting posture dictates where you should place your keyboard. Your elbows should be comfortably at your side rather than behind or in front of you. Therefore, your keyboard should be in front of you at a distance you can comfortably reach with your elbows at your sides.
If your keyboard has a number pad, make sure you're centering it based on the letters rather than the whole keyboard. The letter B should be in front of your navel.
Angle: The keyboard should have a slight negative angle of about 15 degrees. In other words, the keyboard should tilt away from you rather than towards you.
Height: Again, your posture and desk height dictates the correct height of your keyboard and mouse. Your forearms should be roughly parallel to the floor and your wrists straight rather than bent. If your desk is too high to allow this, you can use a keyboard tray or drawer to place your keyboard at the right height.
Computer mice come in different sizes and shapes. Look at an ergonomic mouse that's contoured in the right places to eliminate the unconscious gripping and tension in your fingers that eventually leads to nerve pain and injury. For some people, a vertical mouse that mimics a handshake when you hold it is more ergonomic than a horizontal mouse, as there's no need to twist your wrist when operating it.
Selecting the Correct Mat
Ample cushioning:  Although comfort is subjective, denser mats offer more support.  Select a mat with durability. 
Lengthy warranty: Look for a manufacturer that stands behind their product with at least a five year or lifetime warranty. 
Few negative owner reviews: We looked at reviews discussing sliding, punctures or cracking of mats.  
Product Recommendations
Topo Anti-Fatigue Mat (retails for $99 sold by Fully or ErgoDriven)
offers different stretching positions while standing for your feet and calf muscles 
easy to store under desk area 
comes in 4 different colors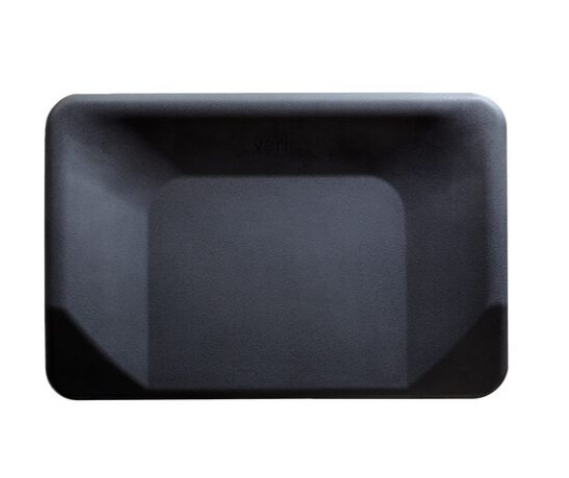 Image source
The ActiveMat (retails for €115 by Vari)
stretching options while standing 
1 color option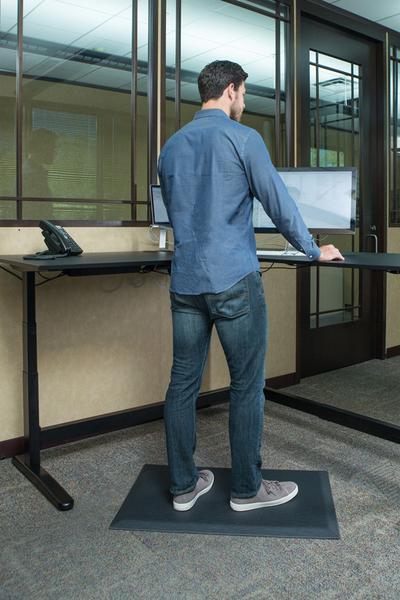 Commercial Couture Strata (retails for $82.50 by Imprint Comfort Mats)
made from one piece of polyurethane and instead of foam
good option if you weigh more than 240 lbs. 
2 color options
Vari Standing Mat (retails for €70 by Vari)
non-slip bottom
high density 
two size options
1 color option (black)
Professor Alan Hedge from Cornell University said "movement is important to get blood circulation through the muscles." [1]  Hedge's recommended sit-stand-move cycle, suggests that you should alternate between sitting and standing up to 16 times per day! 
Routine [1]
30-minute cycles
20 minutes of sitting
8 minutes of standing
2 minutes of moving while standing (walking away, single leg balance, stretching)
repeat this cycle up to 16 times per day
Hedge also points out that "movement is free." [1] At the end of the day we all need to move our bodies more and sit less.  Research has associated prolonged sitting (aka "Sitting Disease") with a higher risk of a host of problems, including heart disease and diabetes [5], certain cancers [6], and premature death [3, 6].
We have more blogs specific about setting up an ergonomic friendly office workstation related to keyboards, chairs, electric vs. manual standing desk converters, bicycling vs. treadmill desk options and more.  If you found this blog post helpful please share with your friends, family, co-workers and neighbors.
We have additional blog post specific to pilates, pre/post natal, bone building for osteoporosis/osteopenia, mindful meditation, restorative yoga therapy, partner and endurance training.  We believe in treating the whole person with a holistic approach and blend our knowledge and training of movement, nutrition, massage therapy and traditional chinese medicine.  
We love teaching mindful movement and are here to support you in your journey. We offer customized online remote training from anywhere in the world. Contact us today to get started and learn to move with less pain and greater ease. We look forward to partnering with you and answering your movement questions and/or concerns.   
Assumption of the Risk: By attempting any of the exercises, you do so at your own risk.  We make no representations, guarantees or warranties that the information or exercises on this blog are appropriate for you or will result in improvements of your medical condition or function.  
Not medical advice or physical therapy.  This content is intended to provide information and instructions on general exercises that may help increase strength, mobility, and function for specific areas of the body.  It is not intended to be a substitute for obtaining a medical diagnosis or medical or physical therapy advice from a qualified licensed provider.  You should seek medical advice from a qualified physician or physical therapist before trying any of the exercises or self-treatment suggestions on this blog, particularly if your pain is from a traumatic injury or event. 
References
HEDGE, A., Sitting and Standing at Work. 
BAILEY, D., HEWSON, D., CHAMPION, R. and SAYEGH, S., 2019. Sitting Time and Risk of Cardiovascular Disease and Diabetes: A Systematic Review and Meta-Analysis. American Journal of Preventive Medicine, 57(3), pp. 408-416.
BUCKLEY, J.P., HEDGE, A., YATES, T., COPELAND, R.J., LOOSEMORE, M., HAMER, M., BRADLEY, G. and DUNSTAN, D.W., 2015. The sedentary office: a growing case for change towards better health and productivity. British Journal of Sports Medicine,

.

COMMISSARIS, D. A. C. M, KÖNEMANN, R., HIEMSTRA-VAN MASTRIGT, S., BURFORD, E.-., BOTTER, J., DOUWES, M. and ET AL, 2014. Effects of a standing and three dynamic workstations on computer task performance and cognitive function tests. Applied Ergonomics, 45

(6), pp. 1570-1578.

DUNSTAN, D.W., THORP, A.A. and HEALY, G.N., 2011. Prolonged sitting: is it a distinct coronary heart disease risk factor? Current Opinion Cardiology Journal, 26

(5), pp. 412-419.

SCHMID, D. and COLDITZ, G., 2014. Sedentary behavior increases the risk of certain cancers  . Journal of the National Cancer Institute, 106(7),.
HAMILTON, M.T., HAMILTON, D.G. and ZDERIC, T.W., 2007. Role of Low Energy Expenditure and Sitting in Obesity, Metabolic Syndrome, Type 2 Diabetes, and Cardiovascular Disease. Diabetes, 56

, pp. 2655-2667.

HEDGE, A. and RAY, E.J., Sept. 20-24, 2004. Effects of an electronic height-adjustable worksurface on self-assessed musculoskeletal discomfort and productivity among computer workers, HFES

, Sept. 20-24, 2004 Sept. 20-24, 2004, pp. 1091-1095.

KARAKOLIS, T. and CALLAGHAN, J.P., 2014. The impact of sit-stand office workstations on worker discomfort and productivity: a review. Appl Ergon, 45

(3), pp. 799-806.

KRAUSE, N., LYNCH, J.W., KAPLAN, G.A., COHEN, R.D., SALONEN, R. and SALONEN, J.T., 2000. Standing at work and progression of carotid atherosclerosis. . Scand J Work Environ Health, 26

(3), pp. 227-236.

PRONK, N.P., KATZ, A.S., LOWRY, M. and PAYFER, J.R., 2012. Reducing Occupational Sitting Time and Improving Worker Health: The Take-a-Stand Project, 2011. Prev Chronic Dis, 9

(110323),.

ROBERTSON, M.M., CIRIELLO, V.M. and GARABET, A., 2013. Office ergonomics training and a sit-stand workstation: Effects on musculoskeletal and visual symptoms and performance of office workers. Applied Ergonomics, 44

(1), pp. 73-85.

TÜCHSEN, F., HANNERZ, H., BURR, H. and KRAUSE, N., 2005. Prolonged standing at work and hospitalisation due to varicose veins: a 12 year prospective study of the Danish population. Occup Environ Med., 62

(12), pp. 847-850.

TÜCHSEN, F., KRAUSE, N., HANNERZ, H., BURR, H. and KRISTENSEN, T.S., 2000. Standing at work and varicose veins. . Scand J Work Environ Health, 26

(5), pp. 414-420.

WILKS, S., MORTIMER, M. and NYLÉN, P., 2005. The introduction of sit–stand worktables; aspects of attitudes, compliance and satisfaction. App. Erg, 37

(3), pp. 359-365.