"It's not the load that breaks you it's how you carry it."
– Lou Holtz
Can cycling while working help reduce sedentary time in the office?  The simple answer is yes.  Researchers found that people working on a desk exercise bike burned calories at 2.5 times the rate than when they sat and typed at a traditional desk.  Intermittent pedaling, the University of Utah reported, could even improve cognitive function.  Authors of another study say just 23 minutes of pedaling could boost health if done regularly. 
The next question you might have is how would cycling affect your desk performance based office work?  Tine Torbeyn and colleagues have found cycling on a bike can positively influence cognitive performance while working.  [1] This study showed that typing performance and short-term memory are not deteriorated when people cycle at 30% Wmax. Furthermore, cycling had a positive effect on response speed across tasks requiring variable amounts of attention and inhibition. [1]
Bike desks are the fitness cousins to treadmills for improving cardiovascular health.  The pedal revolutions stimulate similar benefits to treadmills, but with unique benefits.  About the size of a standard office chair, the exercise apparatus slips under a desk and is perfect for business spaces where treadmills are not an option.  Desk exercise bikes– more affordable, portable and practical in size than treadmill desks.  So many modern business tasks can be done on a bicycle desk workstation– Skype calls, web research, emails, phone calls, even typing can be done while cycling at a slow pace with a properly height-adjusted bicycle desk.  
"Sitting is the new smoking disease" [1]
Research shows some fundamentally negative effects are rooted from sitting for long periods of time.  
Increased risk of heart disease, diabetes, musculoskeletal pain  
Sitting is a risk factor for death
Mortality rate is increased by 15% for people who sit over 8 hours per day and 40% for people who sit over 11 hours per day
Movement is medicine.  A bike desk is one possible solution to help you achieve more movement throughout your workday.  
Ergonomic Friendly Setup
Distance: Place your monitor about 20 inches in front of you, or at arm's length. Putting it too close will strain your eyes, while placing it too far away may make you slouch forward in an attempt to read what's on the screen.
Angle: Your monitor should be placed at an angle of about 10 to 20 degrees. A greater angle will cause you to hold your head at an uncomfortable angle, leading to neck strain.
Height: the top line of your screen should be at or below eye level. Tilting your head back to try to read your monitor can lead to headaches and neck pain.
Lighting: If you're lucky enough to have a window in your office space, try to avoid facing it or sitting with your back to it. Placing your monitor and desk perpendicular to the window works best. Whatever kind of lighting you use, position the monitor so that there is no distracting glare.
Monitors often come fixed to their stands, making them hard to adjust. Fortunately, there are plenty of adjustable monitor stands available, and it's relatively easy to improvise something as well. You can try stacking books or reams of printer paper to see what works for you. Once you know what you need, you can go looking for a more permanent solution.
Selecting a Bicycle Workstation
When you're shopping for one, keep in mind that you can mix and match components.  As long as your standing desk has a high clearance and no cross bars for added support, chances are it'll work with an under-the-desk bike.  Here are some questions to ask yourself:
How much do you expect to use the bike desk?
How much room do you have? Do you already have a space in mind? If so, what are the measurements for the space? 
Is it for an individual or shared workstation?  How many people will be using the machine per day?  
Do you need assistance with installation and setup?  
Professor Alan Hedge has published several research papers analyzing the health impact on individuals using sit-stand ergonomic workstations and the rate of productivity.  He found that low impact movement and transitioning from sitting to standing positions (3.6 times per day) throughout the workday lead to an average of 62% decrease in musculoskeletal complaints. [1] The overall feedback from employees on sit-stand was very positive.  The study participants were asked to rate the level of discomfort in their regular seated workstation position in their feet, legs, knees, thighs, buttocks, hands, wrist, lower arms/elbows, lower back middle back, upper back, shoulders, neck and eyes.  The same participants were asked to rate the level of discomfort post sit-stand workstation after 3 months of use.  Each region of the body showed decreased discomfort levels post sit-stand workstation over 3 months of time, plus, reduced mid-morning and early afternoon to end of day discomfort complaints. [1] The takeaway message from Professor Hedge is sit-stand workstations can be beneficial for your overall health and wellbeing.  [1, 8]
Health Benefits [2, 3, 4, 9]
Improved mood
Depression relief 
Decreased stroke risk by 20% with 30 minutes of walking per day
Lowering blood pressure 
Improved sleep habits 
Varied work posture 
Reduced upper body discomfort
Reduced foot swelling 
Increased productivity taking fewer and shorter breaks
Enhanced workforce performance
Improved musculoskeletal conditions (i.e. back pain)
Decreased back pain 
Increased circulation and blood flow
Finding the right workstation specific for you and your needs is subjective.  We recommend making a list of what are the key features that are the most important for you and your workstation needs.  We accessed each bike based on the following criteria: 
Keyboard space
Ease of use 
Overall stability
Ergonomics 
Workstation capacity 
Build quality 
Warranty 
Budget 
C3-DT7 Bike Desk + 60″ Cool Gray Desktop (retails for $1699 from Office Chairs USA
)
Image source
Console integrated directly into the armrest with workout time, pedal revolutions, distance, calories and speed
Bike is quiet with 16 levels up to 300 Watts
2 Rear-Mounted Wheels for Easy Mobility
Bike uses little electricity 
Padded armrest 
Electric height adjustment from 40″ to 53″ (supporting users from five-feet to 6-feet-8-inches)
2 desktop widths either 38″ or 48″ available 
Frame: Lifetime warranty
Parts: 2 Years warranty
Labor: 1 Year warranty
30-Day Money Back Guarantee with free shipping
Solo Under Desk Bike (retails for $449 from Lifespan)
Image source
4 transport wheels
Cordless
No adjustable resistance
No distance or pedal tracker 
The seat height can be adjusted over a 7″ range, with eleven positions, fitting users ranging in heights from 4'8" to 6'6″
The pedals are placed further out in front of the seat than a traditional bike, reducing knee movement and placing your feet in a more comfortable position, more consistent with working at a desk
Maximum user weight of 400 lbs
Frame: 3 Year warranty
Parts: 1 Year warranty
Single Box: 37.6″ L x 10.9″ W x 22.4″ H
30-Day Money Back Guarantee with free shipping
C3-DT3 Under Desk Bike (retails for $699 from Lifespan)
Image source
Easy assembly 
2 rear- mounted transport wheels
Seat adjust to 19 positions
Bike is quiet with 16 levels up to 300 Watts
Bike uses little electricity 
Electric height adjustment from 40″ to 53″ (supporting users from five-feet to 6-feet-8-inches)
2 desktop widths either 38″ or 48″ available 
Frame: Lifetime warranty
Parts: 2 Years warranty
Labor: 1 Year warranty
Single Box: 28″ L x 15″ W x 35″ H
30-Day Money Back Guarantee with free shipping
Vive Pedal Arm & Leg Exerciser (retails for £52.99 sold on Amazon)
Tension knob to adjust resistance levels
Can be used for lower and upper body cardio
Display monitor is battery operated 
Small and compact without taking up much space
Need to assemble 
DeskCycle 2 Under Desk Cycle Pedal Exerciser (retails for $188 from Amazon)
Image source
Small monitor need power source and can place anywhere on your desktop area. 
Web app available to display on smartphone or computer monitor with stats – calories, distance, minutes, steps 
Adjustable resistance knob with 8 different settings 
Adjustable leg height 
No power source needed to pedal 
Need to assemble leg bases and pedals
Smooth motion 
1-year warranty 
MagneTrainer-ER Mini Exercise Bike Arm and Leg Exerciser (retails for $179 from Amazon)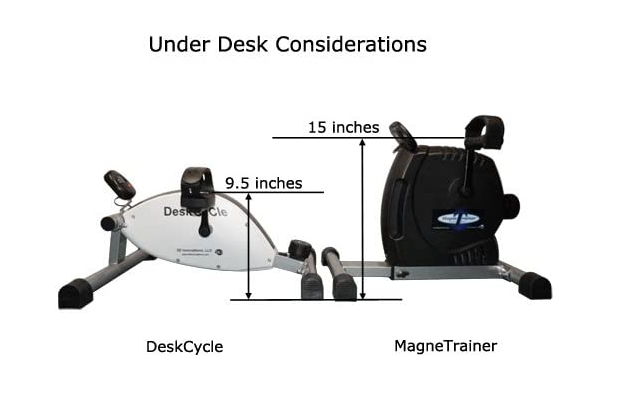 15 inch wide base
Adjustable velcro straps 
Small monitor display for speed, distance, time and calories
AA battery operated 
Resistance knob
Bidirectional allowing you to pedal forwards and backwards for muscle activation (pre/post rehab tool)
1 year warranty with 30-day money back guarantee  
Smooth motion 
Exerpeutic 2000M Motorized Electric Legs and Arms Pedal Exerciser Mini Exercise Bike (retails for $110 from Amazon)
Image source
Pedals are self-powered using 110v in U.S. 
Meant for therapeutic rehab and turns off every 15 minutes 
Speed can be adjusted not the resistance levels 
Can be plugged into electrical outlet 
Only forward direction motion 
Smooth motion 
1 year limited warranty 
Platinum Fitness Fit Sit Deluxe Folding Pedal Exerciser Leg Machine with Electronic Display (retails for $50 from Amazon)
Pedal straps are adjustable 
Need to assemble just a few items
Adjustable tension knob
Collapsible training tool measuring 15.25″ x 10.5″ x 6.5″ with tension knob attached. Without knob height is 5.25″
Birectional motion 
18″ x 16″ — 16″ is when the pedal is at apex position 
Height is not adjustable 
Display is battery operated 
Jerky motion 
We have more blogs specific about setting up an ergonomic friendly office workstation related to keyboards, chairs, mats, electric vs. manual standing desk converters, bicycling vs. treadmill desk options and more.  If you found this blog post helpful please share with your friends, family, co-workers and neighbors.
We have additional blog post specific to pilates, pre/post natal, bone building for osteoporosis/osteopenia, mindful meditation, restorative yoga therapy, partner and endurance training.  We believe in treating the whole person with a holistic approach and blend our knowledge and training of movement, nutrition, massage therapy and traditional chinese medicine.  
We love teaching mindful movement and are here to support you in your journey. We offer customized online remote training from anywhere in the world. Contact us today to get started and learn to move with less pain and greater ease. We look forward to partnering with you and answering your movement questions and/or concerns.   
Assumption of the Risk: By attempting any of the exercises, you do so at your own risk.  We make no representations, guarantees or warranties that the information or exercises on this blog are appropriate for you or will result in improvements of your medical condition or function.  
Not medical advice or physical therapy.  This content is intended to provide information and instructions on general exercises that may help increase strength, mobility, and function for specific areas of the body.  It is not intended to be a substitute for obtaining a medical diagnosis or medical or physical therapy advice from a qualified licensed provider.  You should seek medical advice from a qualified physician or physical therapist before trying any of the exercises or self-treatment suggestions on this blog, particularly if your pain is from a traumatic injury or event. 
References
TORBEYNS, T., DE GEUS, B., BAILEY, S., DE PAUW, K., DECROIX, L., VAN CUTSEM, J. and MEEUSEN, R., 2016. Cycling on a Bike Desk Positively Influences Cognitive Performance. PloS one, 11(11), pp. e0165510.
HEDGE, A., Sitting and Standing at Work. 
BAILEY, D., HEWSON, D., CHAMPION, R. and SAYEGH, S., 2019. Sitting Time and Risk of Cardiovascular Disease and Diabetes: A Systematic Review and Meta-Analysis. American Journal of Preventive Medicine, 57(3), pp. 408-416.
BUCKLEY, J.P., HEDGE, A., YATES, T., COPELAND, R.J., LOOSEMORE, M., HAMER, M., BRADLEY, G. and DUNSTAN, D.W., 2015. The sedentary office: a growing case for change towards better health and productivity. British Journal of Sports Medicine,

.

COMMISSARIS, D. A. C. M, KÖNEMANN, R., HIEMSTRA-VAN MASTRIGT, S., BURFORD, E.-., BOTTER, J., DOUWES, M. and ET AL, 2014. Effects of a standing and three dynamic workstations on computer task performance and cognitive function tests. Applied Ergonomics, 45

(6), pp. 1570-1578.

DUNSTAN, D.W., THORP, A.A. and HEALY, G.N., 2011. Prolonged sitting: is it a distinct coronary heart disease risk factor? Current Opinion Cardiology Journal, 26

(5), pp. 412-419.

SCHMID, D. and COLDITZ, G., 2014. Sedentary behavior increases the risk of certain cancers  . Journal of the National Cancer Institute, 106(7),.
HAMILTON, M.T., HAMILTON, D.G. and ZDERIC, T.W., 2007. Role of Low Energy Expenditure and Sitting in Obesity, Metabolic Syndrome, Type 2 Diabetes, and Cardiovascular Disease. Diabetes, 56

, pp. 2655-2667.

HEDGE, A. and RAY, E.J., Sept. 20-24, 2004. Effects of an electronic height-adjustable worksurface on self-assessed musculoskeletal discomfort and productivity among computer workers, HFES

, Sept. 20-24, 2004 Sept. 20-24, 2004, pp. 1091-1095.

KARAKOLIS, T. and CALLAGHAN, J.P., 2014. The impact of sit-stand office workstations on worker discomfort and productivity: a review. Appl Ergon, 45

(3), pp. 799-806.

KRAUSE, N., LYNCH, J.W., KAPLAN, G.A., COHEN, R.D., SALONEN, R. and SALONEN, J.T., 2000. Standing at work and progression of carotid atherosclerosis. . Scand J Work Environ Health, 26

(3), pp. 227-236.

PRONK, N.P., KATZ, A.S., LOWRY, M. and PAYFER, J.R., 2012. Reducing Occupational Sitting Time and Improving Worker Health: The Take-a-Stand Project, 2011. Prev Chronic Dis, 9

(110323),.

ROBERTSON, M.M., CIRIELLO, V.M. and GARABET, A., 2013. Office ergonomics training and a sit-stand workstation: Effects on musculoskeletal and visual symptoms and performance of office workers. Applied Ergonomics, 44

(1), pp. 73-85.

TÜCHSEN, F., HANNERZ, H., BURR, H. and KRAUSE, N., 2005. Prolonged standing at work and hospitalisation due to varicose veins: a 12 year prospective study of the Danish population. Occup Environ Med., 62

(12), pp. 847-850.

TÜCHSEN, F., KRAUSE, N., HANNERZ, H., BURR, H. and KRISTENSEN, T.S., 2000. Standing at work and varicose veins. . Scand J Work Environ Health, 26

(5), pp. 414-420.

WILKS, S., MORTIMER, M. and NYLÉN, P., 2005. The introduction of sit–stand worktables; aspects of attitudes, compliance and satisfaction. App. Erg, 37

(3), pp. 359-365.