"In all areas of your life, striving for proper posture can enhance your career, style and health."
– Cindy Ann Peterson
Working at a computer job takes a toll on our bodies.  The common issues are added tension in our neck, shoulders, back, eyes, wrist and hands.  We have written additional blogs of on setting up an ergonomic workstation and wanted to specifically address the increased stress and strain placed on our wrist and hands.  Having an ergonomic keyboard can provide much needed relief and prevent injuries.  If you think about how your standard flat, rectangular keyboards are designed, then ergonomic alternatives make sense. These special keyboards prevent your hands, wrists, and fingers from resting at odd angles, putting pressure on your nerves and blood vessels, which can cause problems such as carpal tunnel syndrome, tendinitis or other repetitive stress injuries.  
Carpal tunnel syndrome (CTS)[1]
Carpal tunnel syndrome (CTS) is an entrapment neuropathy caused by compression of the median nerve as it travels through the wrist's carpal tunnel.
It is the most common nerve entrapment neuropathy, accounting for 90% of all neuropathies.
Early symptoms of carpal tunnel syndrome include pain, numbness, and paresthesias.
Symptoms typically present, with some variability, in the thumb, index finger, middle finger, and the radial half (thumb side) of the ring finger.
Pain also can radiate up the affected arm. With further progression, hand weakness, decreased fine motor coordination, clumsiness, and thenar atrophy can occur.
Tendinitis [2]
Inflammation in one or more of the tendons located in the wrist or hand.  Can be caused by repetitive motions leading to small micro tears in the tissue. Symptoms can include swelling, warmth, creaky noise when you move it, pain, limited range of motion with specific movements like gripping, pinching, throwing, etc.  
Ergonomic Friendly Setup [3]
Distance: Proper sitting posture dictates where you should place your keyboard. Your elbows should be comfortably at your side rather than behind or in front of you. Therefore, your keyboard should be in front of you at a distance you can comfortably reach with your elbows at your sides.
If your keyboard has a number pad, make sure you're centering it based on the letters rather than the whole keyboard. The letter B should be in front of your navel.
Angle: The keyboard should have a slight negative angle of about 15 degrees. In other words, the keyboard should tilt away from you rather than towards you.
Height: Again, your posture and desk height dictates the correct height of your keyboard and mouse. Your forearms should be roughly parallel to the floor and your wrists straight rather than bent. If your desk is too high to allow this, you can use a keyboard tray or drawer to place your keyboard at the right height.
Computer mice come in different sizes and shapes. Look at an ergonomic mouse that's contoured in the right places to eliminate the unconscious gripping and tension in your fingers that eventually leads to nerve pain and injury. For some people, a vertical mouse that mimics a handshake when you hold it is more ergonomic than a horizontal mouse, as there's no need to twist your wrist when operating it.
Selecting a Keyboard
A decent ergonomic keyboard solves these alignment problems.  There are a number of different designs available today from curved one-piece keyboards to unique two-piece models that separate the keys into two "islands."  We accessed each keyboard based on the following criteria: 
Keyboard space
Ease of use 
Overall stability
Ergonomics 
Workstation capacity 
Build quality 
Warranty 
Price point 
Microsoft Sculpt Keyboard (retails $77-150 sold on Walmart or Amazon)
Image source
Cushioned palm rest 
Curved split key shape aligns wrists more naturally 
Raised wave-like vertical design positions fingers comfortably and rotates wrists outward to reduce ulnar compression 
Sleek modern aesthetics 
Mid-range price point 
Lacks a Fn key
F-keys are small button rather than actual keys
No Mach layout model 
The wireless signal between the keyboard and the receiver to be weak. If the receiver is more than a foot away, and not on the right side of the keyboard, I get missing letters when I type. I've solved this by using a USB extension cable to bring the receiver right to the edge of my desk so it's very close.
Includes a tiny dongle that you can attach to an USB port and speaks to the keyboard wirelessly
US layout model different from UK market 
Measures 9 x 16 x 2.48 in
Kinesis Freestyle2 Two-piece keyboard (retails for $99 from Kinesis)
Image source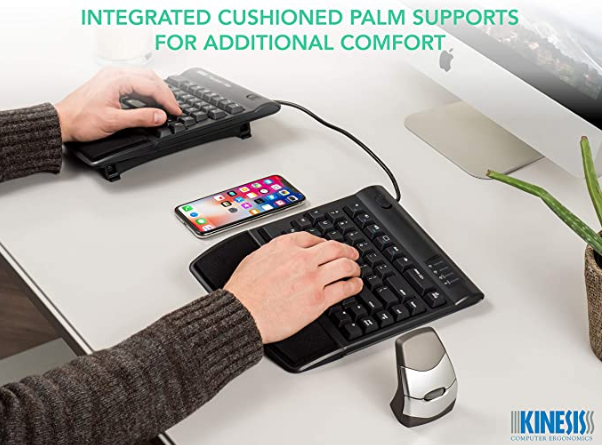 Two piece keyboard allowing for more customization and variation for your specific needs for your height, arm length, shoulder width and more
Doesn't feature a lot of other ergonomic features when compared to other keyboards
To get the most out of the Freestyle (such as wrist-rotating tenting, tilting, and a supportive palm rest), you'll need to purchase the VIP3 riser kit , retails for $36 which adds to the already fairly steep cost of the keyboard itself
The riser kit offers a lot of customizability, though, and you can even adjust both the tilting and tenting with it, something you generally can't do on one-piece ergonomic keyboards
PC and Mac Versions available online  
Wireless Bluetooth connectivity 
2-year warranty 
60 day risk free trial period 
Measures 7.13 x 0.87 x 15.39 in
Logitech MK550 Wireless Wave Combo (retails for $60 from B&H)
Budget-friendly combo purchase keyboard and mouse for only $60 for the bundle
The Wave's curvature isn't nearly as pronounced as that of the Sculpt, though, so it doesn't rotate your wrist outwards as Microsoft's keyboard does
Comfortably supports your hands and wrists
Curved design aligns your wrists in a neutral position
Wave-like key positioning lets your fingers rest more naturally on the keyboard
The mouse isn't quite as ergonomically sound as the keyboard
The mouse doesn't put your wrist in a neutral position
Very generous battery life
The keyboard can run for up to three years and the mouse for up to two years, each on two AA batteries
Measures 10.44 x 3.09 x 19.69 in
Fellowes Microban Keyboard (retails for $51 from Fellowes or Amazon)
Comfortable to operate for extended periods of time
Extremely ergonomic and easy to use after a brief learning curve
The rounded shape and split key design align your hands and wrists in an anatomically correct position while the bulbous curvature of the palm rest rotates your wrists slightly outward (although this rotation isn't quite as noticeable as that of the Microsoft Sculpt)
Anti-microbial coating wards off bacteria

USB connectivity, no software required for Windows Vista and Windows 7, For Windows 98SE, 2000 and ME

Compatible as plug & play device with Windows Operating Systems

Compatible with Mac when you download Karabiner-Elements and all functionality of the Mac can be put on keys; but the silver hot keys on top apparently are not recognized by the Mac's hardware and/or driver
Measures 20.5 x 10.6 x 2.6 in
Once you figure out which ergonomic keyboard will work best for you and your work space we have additional blogs related tip to chairs, mats, electric vs. manual standing desk converters, bicycling vs. treadmill desk options and more.  If you found this blog post helpful please share with your friends, family, co-workers and neighbors.
We have additional blog post specific to pilates, pre/post natal, bone building for osteoporosis/osteopenia, mindful meditation, restorative yoga therapy, partner and endurance training.  We believe in treating the whole person with a holistic approach and blend our knowledge and training of movement, nutrition, massage therapy and traditional chinese medicine.  
We love teaching mindful movement and are here to support you in your journey. We offer customized online remote training from anywhere in the world. Contact us today to get started and learn to move with less pain and greater ease. We look forward to partnering with you and answering your movement questions and/or concerns.   
Assumption of the Risk: By attempting any of the exercises, you do so at your own risk.  We make no representations, guarantees or warranties that the information or exercises on this blog are appropriate for you or will result in improvements of your medical condition or function.  
Not medical advice or physical therapy.  This content is intended to provide information and instructions on general exercises that may help increase strength, mobility, and function for specific areas of the body.  It is not intended to be a substitute for obtaining a medical diagnosis or medical or physical therapy advice from a qualified licensed provider.  You should seek medical advice from a qualified physician or physical therapist before trying any of the exercises or self-treatment suggestions on this blog, particularly if your pain is from a traumatic injury or event. 
References