"An effective human being is a whole what is greater than the sum of its parts."
– Ida Rolf
Cupping therapy (Hijama) is one of the oldest methods of healing dating back to ancient Egyptians.  Chinese practitioners have also practiced cupping therapy for thousands of years and plays an component of Traditional Chinese Medicine (TCM).  Cupping therapy (CT) uses different types of cups and applies them to your skin either by vacuum pump or by fire to create negative pressure inside the cups.  The created pressure within the cup pulls the skin up.   There are many types of cupping therapies including wet cupping, dry cupping, flash cupping, sliding cupping and others.  The  most common sites on which the cups are applied are the back, chest, abdomen and other body areas.  [1]  In Oriental medicine, cupping may be used for making various diagnoses through skin color. 
Treatment 
Depending on where you go for a session some practitioners will solely do a cupping session without any other modalities of treatment. I personally like to incorporate the cupping sessions into my massage therapy treatments and movement sessions to get the most out of our time together.  Acupuncturist will incorporate cupping into their treatment sessions.  Each practitioner has their own style and training so finding one that works for you is key.  Cupping therapy can be used to treat: 
back and neck pain
skin diseases such as acne and hives
lowering cholesterol
migraines
knee arthritis
improving immune function.
What Does Cupping Feel Like?
Contrary to the commonly-held impression, the suction of the cups does not hurt. In fact, most people find the sensation very pleasant, a sort of a release. The cups can remain in position for several minutes, or the therapist can glide them over the skin similar to the movements of a massage. This negative pressure is the opposite to a deep tissue massage – a pulling versus a pushing effect.
Benefits 
Relaxation: suction cups provide a negative pressure on the skin, muscles, and fascia. This is in contrast to the positive pressure of the deep tissue massage, and can be a very relaxing and soothing experience.
Boost immune system via the production of natural killer cells and cytokines which secrete anti-inflammatory properties.
Promotes blood circulation speeds up muscle recovery. The negative pressure from the suction allows new blood to flow into that area of tissue with several benefits –

Provides a feeling of relief from physical and emotional tensions
Begins the healing and regeneration process

– the exchange of blood allows the removal of toxins and dead cells

Enhances circulation
Warms the skin, and softens tissues to regain elasticity
Reduces inflammation
Cupping for Athletes
Cupping can be a great pre and post rehab tool for any high performance athlete with a high volume training load.  I recommend looking for a therapist who specializes in orthopedics or sports medicine to help create the best possible treatment schedule based upon your training load and intensity.  
Muscle relaxation theory increases vasodilation and increase the parasympathetic nervous activity, leading to muscle relaxation.
Aid in muscle health and functionality clearing out pathogens and toxins found within the body 
Skin Marks: What You Should Know About Them? 
Cupping can leave skin marks for several days post treatment.  Typically the skin mark is usually round red to purple in color.  There are many researches done in this field to analyze or explain these marks. Cupping marks can be explained by more than one theory.  Many factors can determine the cupping marks such as pressure and time. The marks usually disappear within 3 weeks or less. [7]
Purplish red cupping mark means severe damp heat.

Red cupping mark signifies severe heat.

Bluish purple cupping mark indicates severe cold dampness.

Cupping mark with dark color means exuberance of the pathogenic qi, a life force.


Cupping mark with light color implies mild pathogenic qi.

No cupping mark means the absence of pathogenic qi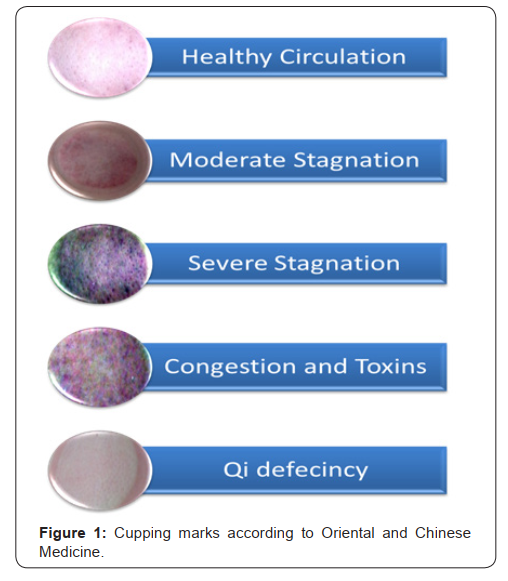 Image source [7]
Post Sesion
Avoid shower immediately after cupping session.  Keep the areas that were treated covered and warm.  Avoid alcohol. Give your body time to adjust to the treatment session and stay hydrated.  You may feel fatigued or experience flu-like symptoms the next day.
Recommended Products
LURE silicon cups are great for traveling and easy to pack in your duffle bag plus they won't break like the glass cups.  It is important to see the color change in the skin tissue and that's why I recommend purchasing the clear cups instead of the colored blue or pink you might see online.  
Contraindicated or Precautionary Considerations
Before treating a patient with cupping treatment a full medical health history should be collected to make sure they aren't taking any medications or receiving any current treatment that might push the drug through the body faster than expected.  Here are just a few of the health conditions and symptoms should NOT receive cupping therapy without further medical clearance from their physician.  
eczema 
psoriasis 
open wounds or recent surgical scars 
hemophilia, leukemia 
fever 
severe anemia 
high blood pressure 
blood thinner medications 
varicose veins 
patients with pacemakers 
swollen or bruised tissue 
cancer patients 
If you have any doubts or concerns about cupping I recommend talking with your practitioner to gain clarity and peace of mind.  Give your body the time and space to heal itself.  
We believe in treating the whole person with a holistic approach and blend our knowledge and training to offer you a unique approach specific to you and your needs.  We have additional blog post for you to check out on movement, nutrition and traditional chinese medicine.    
We love teaching mindful movement and are here to support you in your journey. We offer customized online remote training from anywhere in the world. Contact us today to get started and learn to move with less pain and greater ease. We look forward to partnering with you and answering your movement questions and/or concerns.   
Assumption of the Risk: By attempting any of the exercises, you do so at your own risk.  We make no representations, guarantees or warranties that the information or exercises on this blog are appropriate for you or will result in improvements of your medical condition or function.  
Not medical advice or physical therapy.  This content is intended to provide information and instructions on general exercises that may help increase strength, mobility, and function for specific areas of the body.  It is not intended to be a substitute for obtaining a medical diagnosis or medical or physical therapy advice from a qualified licensed provider.  You should seek medical advice from a qualified physician or physical therapist before trying any of the exercises or self-treatment suggestions on this blog, particularly if your pain is from a traumatic injury or event. 
References
AL-BEDAH, A.M., SHABAN, T., ALQAED, M.A., QURESHI, N.A., SUHAIBANI, A. and ET AL, 2016. Classification of Cupping Therapy: A Tool for Modernization and Standardization   . Journal Complementary Alternative Medical Research, 1(1), pp. 1-10.

AL-BEDAH, A.M., SHABAN, T. and ET AL, 2016. Safety of Cupping Therapy in Studies Conducted in Twenty One Century: A Review of Literature. British Journal Medicine Research, 15(8), pp. 1-12.

AL-TUBAYA and KQA, 2012. The clinical and histological skin changes after the cupping therapy (al-Hijamah). Journal of the Turkish Academy Dermatology, 6(1), pp. 1261a1.

HON, K.L., LUK, D.C. and LEONG, K.F., 2013. Cupping Therapy May be Harmful for Eczema: A PubMed Search. Case reports in pediatrics, 605829.

KIM, S., 2016. Laser acupuncture improves skin color deformation by cupping: A pilot study. Acupuncture & Electro-Therapeutics Research, 41(3-4), pp. 155-169.

KIM, S. and LEE, Y., 2014. Numerical analysis of the change in skin color due to ecchymosis and petechiae generated by cupping: a pilot study. Journal Acupuncture Meridian Studies, 7(6), pp. 306-217.

NASEEM, A.Q., ABDULLAH, M.A.B. and TAMER, S.A., 2017. Cupping Hijama Therapy Skin Marks: What Should We Know About Them? Journal of Complementary Medicine, 3(3),.

THAM, L.M., LEE, H.P. and LU, C., 2006. Cupping: from a biomechanical perspective. Journal biomechanics, 39(12), pp. 2183-2193.

YOO, S.S. and TAUSK, F., 2004. Cupping: East meets West. Internal Journal Dermatology, 43(9), pp. 664-665.

ZHAO, X.X., TONG, B.Y., WANG, X.X. and SUN, G.L., 2009. Effect of time and pressure factors on the cupping mark color. Chinese Acupuncture & Moxibustion, 29(5), pp. 385-388.

ZHOONG, L., 2009. Joint reinforcing-reducing effect of acupuncture, moxibustion and cupping therapies. Journal Traditional Chinese Medicine, 2, pp. 101-103.